Post by Clint Barton on Jul 16, 2013 21:32:07 GMT
[PTabbedContent][PTab=GENERAL INFORMATION]

CHARACTER INFO:
NAME: Clinton Francis Barton
ALIAS: Hawkeye; The Hawk; Agent Barton; Marksman
AGE: 40
OCCUPATION: Field agent and Avenger
MEMBER GROUP: Avengers
POWERS AND ABILITIES: Nope. Well, unless you count sarcasm. As far as abilities; he's an expert archer, marksman, acrobat, and hand-to-hand fighter and also has a good head for strategy. But nothing superhuman.
PLAYBY: Jensen Ackes

OOC INFO:
PLAYER NAME: Erin
AGE: 22
GENDER: Female
TIMEZONE: Central Standard Time
OTHER CHARACTERS: Kyle Mcheye, Charlie James, Baldr Odinson, Iimlaunim Hurzana



[/PTab][PTab=PERSONNEL ASSESSMENT]

PERSONALITY ASSESSMENT:
LIKES: Being underestimated: There's nothing better than the look on someone's face when 'that archer dude' takes them down in hand-to-hand. When people underestimate him, it gives him an automatic advantage, which is kinda sweet. He's way more than just an archer.

Arrows: Well, c'mon. They're the tools of his trade and he loves them. He's designed many trick arrows for a wide-range or purposes and when he's bored its not uncommon to see him making arrows, or designing new ones.

Training: Clint knows that he needs to keep up with some pretty powerful people now, and he's getting older. Training serves the double purpose of training and relaxing him and its not uncommon to find him doing so at any point in the day. From martial arts, to swordplay, to archery, to acrobatics, he does it all.

Animals: Especially horses. Clint's circus days started with him helping the animal trainers, and he's kept a love of them sense. He's a pretty decent trainer as well, although he doesn't keep any pets at the moment. He definitely still loves being around animals and can get distracted by them when they're cute enough.

Touch: He's a physically affectionate person. He likes being able to confirm that his friends are still with him via touch. It can be as small as brushing a hand across an arm or putting a hand on a shoulder or as big as a full-bodied hug. This also translates into a bit of sleeping around, since he just likes human contact.

Eating: He loves food. He loves stuffing his face with food. He will eat probably anything. 'Nuff said.

Kids: Clint will do anything to protect kids. Having a rotten childhood himself, he thinks of it as his duty. In addition, kids tend to love him. It's not uncommon to see him playing around with the kids he meets with a big grin on his face.

DISLIKES: Being underestimated: This one's a double-edged sword for him. While he can appreciate it sometimes, on occasion he gets tired of being 'that guy with the bow' and not being recognized for all the other skills he's worked hard to gain and maintain.

Lacking power in a situation: He hates being powerless almost more than anything else. Being at other people's mercy makes his skin crawl and he works hard to never be put in situations like that because he doesn't want to be a victim again like he was when he was a kid.

Loki: There is no way he'll ever trust Loki, not after having the guy all inside his head. He already hated lacking control, and Loki is the only person that took control of him so completely, which definitely puts him on the 'Forever Hate' list.

Criminal activity: Clint greatly dislikes criminals. This is in part because of how easy it seems to be for them to betray people, even those considered family and friends. He hates how criminals are so willing to take things away from others, when they've worked hard for them. The only time he can approve of criminal activity is when its against criminals themselves.

Liars and betrayal: Having been intimately acquainted with both of these things over the years, he's grown a strong dislike for people that do them. Betray him once and its likely he'll never trust you again, or it will at least take forever and a day for him to give you even a minuscule amount.

People leaving: This goes hand-in-hand with betrayal, but Clint hates it when people leave. It leaves him feeling helpless and useless, things he really hates feeling. Plus, when he works so hard to build up a relationship, it rips him apart to lose it. That's why it can be so hard to get to know him.

Paperwork: Who actually likes paperwork? He really finds it quite dull and doesn't understand why it exists.

Enclosed spaces: He grew up under the open sky and while sometimes being in a nice small space can be comforting, he hates feeling trapped by the walls around him. He much prefers a view of the sky and the wind in his hair.

STRENGTHS: Well-trained: Clint spent years in the circus, then the military, and then SHIELD, learning everything he could. He's mastered many forms of martial arts and swordplay, knife-throwing, archery, many long-range weapons, and an astounding amount of acrobatics.

Strategic: He has an eye for strategy and is incredibly observant. He can look at a situation and deduce the best course of action fairly quickly, and it will usually work. He's good at determining people's strengths and weaknesses and using them to his advantage as well.

'World's Greatest Marksman': He doesn't say it lightly; he hits any shot he takes, extenuating circumstances notwithstanding, and he's not afraid to brag about it. He has excellent eyesight and a well-honed sense of what effects trajectory and can calculate flight paths without even realizing he's doing it.

Lip Reading: This doesn't really require much explaining, but he doesn't need to hear you to know what you're saying. If he has a clear sight line to your lips, he can tell what's going on. He cannot, however, read lips as well in other languages, as he's not that great with other languages.

WEAKNESSES: 80% Deaf: Due to an incident on a mission, Clint's lost most of his hearing. He has very high-tech, top-of-the-line hearing aids that let him hear perfectly, but if he loses them or damages them, he can only hear things that are either pretty loud or pretty close, and even then its muffled. Luckily he reads lips.

Only human: This is becoming an increasingly problematic thing with aliens and gods coming around. But he gets injured easier than his superhuman teammates and has no special abilities to speak of, which can be a detriment in the current day and age.

Bad at taking orders (sometimes): If he doesn't agree with an order, he has a tendency to ignore it. And then blame his hearing aids for 'not hearing it'. Being a strategist himself, sometimes he has a very different idea of how things should go and will follow that instead. However, he does know when he shouldn't push things and mid-battle he tends to take orders when given. Unless they suck.

He's a jerk: No, really. Clint's a jerk. He can be rude and insensitive and he doesn't really believe in apologies, so if you get offended you're a little out of luck.

GOALS: To prove himself: He has a slight inferiority complex and wants nothing more than to prove himself to everyone that doubts him. When people insult his abilities, he makes it his mission to prove them wrong. When new recruits roll their eyes about being trained in hand-to-hand by a sniper, they can sometimes wind up in the med bay. He just really wants people to understand how good he is.

To have a family: He loves kids and one day he wants to have a family of his own. However, deep down he worries about becoming his father and he tends to sabotage relationships because he gets scared to get any further into things and then fail. But one day he wants to be a family man. Maybe adopt some kids that are down on their luck like he always when younger.

FEARS: Abandonment: Having lost his family and most of the people in his life that he's become close to besides, he's always worried everyone else will leave him too, and that terrifies him. He doesn't want to be alone.

Failure: He has so much to prove that he just can't deal with the idea of failing at something; anything. When he does fail at something, it can send him into a depressed funk during which he can be even more jerk-ish than usual, because he hates people knowing about his failures.

Lacking control: It's been mentioned before, and I'll mention it again: Clint hates not having control in a situation. And after Loki, he's downright afraid of losing it again.

OVERALL PERSONALITY: Clint is stubborn, confident, loyal, sometimes obnoxious, and a lot of charming. Usually he hides behind a wall of a mixture of these things instead of letting people really get to know him. He doesn't easily give up and his snark can drive people slightly crazy when he gets into one of his never-shut-up moods. He's quick-witted and highly intelligent, but he tends to project an outward appearance of stupidity that most people believe, which helps him find information that he might otherwise not when people relax around him.

He's rough around the edges, having been through a lot in his life, and he tends to rub people the wrong way. His moods can change quickly and when angry he can become a pretty vicious person. However, there's something about him that people are just drawn to and he can gain people's trust fairly easily, even if his own trust is harder to get.

He's fiercely loyal once you've earned it, however, and will fight for you with all his might, even when the situation is hopeless. His relationships are never broken off by him unless romantic in nature (he has a lot of one-or-two night stands) and he will try to hold onto things as long as he can.

HISTORICAL OVERVIEW:
BIRTHPLACE: Waverly, Iowa

RESIDENCE: Clint lives in SHIELD housing, wherever he's stationed. For now he's living on the Helicarrier. He's always been a bit of a nomad, so he doesn't mind not having a permanent residence.

PARENTS: Harold and Edith Barton. His father was an abusive drunk and while his mother tried to stop him, it didn't work well most of the time. They died in a drunk driving accident when he was still young.

SIBLINGS: Charles Bernard Barton. Barney is a few years older than Clint and helped him through all the rough spots in his young life until they parted ways on less-than-stellar terms, though Clint will always love his big brother.

IMPORTANT RELATIVES: Jacques "Swordsman" Duquesne: The man that took Clint under his wing at the Carnival, Clint owes much of his training to Jacques. Their falling out because of Jacques' embezzling left Clint very depressed.

Buck "Trick Shot" Chisholm: His next mentor, Buck taught him archery. He also drew Clint into more criminal schemes that left him feeling dirty, but Clint learned a lot from him. They also had a falling out related to criminal endeavors.

Nick Fury: In some ways, Nick is Clint's savior. He got Clint out of the hole he'd been in and into SHIELD where he could use everything he'd learned for an actual, helpful purpose. Clint really respects him.

Natasha Romanova: They formed a quick camaraderie and work together incredibly well. They're an efficient tag team and Clint is grateful that he didn't kill her when he was told to.

IMPORTANT PERSON: He's not currently dating anyone.

OVERALL HISTORY: Clint was born in Iowa, but he didn't wind up spending much time there. His father was abusive towards him, his brother, and his mother, and Clint learned early on how much he hated the hospital. His parents died in a car crash when he was nine and him and his brother were shipped off to a group home, where they were never given enough attention. After a year, him and Barney grew tired of the place and ran away to the nearby Carson's Carnival of Traveling Wonders, where they were taken on to help with the animals.

He soon caught the eye of a performer that went by Swordsman and began training in everything from swords to the trapeze in order to work in his act, trying to learn as much as he possibly could while he had the chance. Eventually he even learned archery under the carnival's archer, Trick Shot, taking up the name Hawkeye for his performances.

Over the years they were there, Clint and his brother grew apart, and when Clint discovered the Swordsman was embezzling from the Carnival and fought him, winding up in the hospital with broken bones, Barney left him there. Depressed over losing his mentor and his brother all at once, Clint went to Coney Island to work instead. There he was reunited with Trick Shot, who managed to pull Clint into some criminal endeavors of his own. During one of these, Clint accidentally injured a guard who he then discovered was actually his brother.

Now in his twenties, Clint joined the military to get away from his past. He was trained as a sniper, but caught the eye of SHIELD before he had much time in the field and was brought in as an agent. He quickly proved himself to be a valuable asset to them and was sent on increasingly sensitive missions, rising quickly up the ranks.
While on a mission with Agent Bobbi Morse, they were captured and held by their mark. In a last-ditch effort to help them escape, Clint managed to get one of his special sonic arrowheads to explode in order to distract the guards, but lost most of his heading in the process by damaging his eardrums.

This didn't dampen his abilities as an agent, however, once he got used to the hearing aids and learned how to read lips. He recruited Natasha Romanova to SHIELD when sent on a mission to assassinate her. Instead of following orders, Clint saw something in her and decided to take her in. Though he was in serious trouble for it, she became a valuable asset and they became a well-used strike team.

When Loki attacked, Clint was taken out of the fight for a while by Loki himself when he decided to take control of the agent. Against his will, Clint assisted the enemy in bringing down the organization he'd worked for for so long, and even though it killed him, he couldn't break free. Once he was free, Clint did everything he could to help fix the problems he'd caused, though the guilt was still almost too much.

Now he's back to active duty with SHIELD, although the guilt for New York still eats at him.

[/PTab][PTab=IMAGE]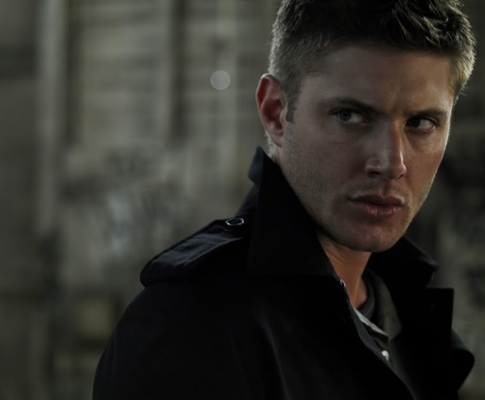 [/PTab][/PTabbedContent={width:485px;border:0px;margin-left:-2px;}]
CANON INFORMATION:
CANON: New Con

INFINITY ENDVERSE CANON:
NAME: Clinton Francis Barton
ALIAS: Hawkeye; The Hawk; Professor Barton
AGE: 40
OCCUPATION: Professor (Physics) & Archery team sponsor at Shadow Academy
MEMBER GROUP: Government, SHIELD
AFFILIATIONS: none
PLAYBY: Jensen Ackles

BIRTHPLACE: Waverly in Western New England
RESIDENCE: Shadow Academy Off-Campus Housing
PARENTS: Harold & Edith Barton
SIBLINGS: Barney Barton
IMPORTANT RELATIVES: Natalia Romanova is his closest friend.
IMPORTANT PERSON: Flirtationship with most people he meets.

HISTORY:
Clint's history is mostly the same, except that shortly after recruiting Nat to SHIELD he decided to step out of field work. Finding that he actually preferred being in the position to find and train recruits, he took up a position at Shadow Academy. While at first no one was sure what, exactly, he could teach at a prestigious University, Clint quickly proved to have a natural knack for Physics due to his circus training heavily relying on its laws and after some instruction he was able to grasp it in more official terms in order to teach it.

Once on campus Clint also took control of some of the clubs and sports, including the gymnastics and archery teams. Through all of this, he works on SHIELD recruitment via the Academy in addition to simply teaching those that won't go on to the agency.

Still generally a slacker, he has an incredibly put-upon Teaching Assistant named Kate Bishop who is constantly attempting to keep him in line and making sure that he grades assignments instead of just drawing smiley-faces on them.

He occasionally does return to the field for special missions, but he enjoys the more laid-back life that teaching affords him, in addition to his renewed ability to collect various critters that he finds.