Post by Deleted on Mar 30, 2016 9:42:28 GMT
[PTabbedContent][PTab=GENERAL INFORMATION]
CHARACTER INFO:
NAME:
Frank Castle
ALIAS:
Francis Castiglione, Big Nothing, The Punisher
AGE:
38
OCCUPATION:
Vigilante
MEMBER GROUP:
Villain/Civilian
AFFILIATIONS:
N/A
POWERS AND ABILITIES:
While Frank has no superhuman abilities, he is a tough S.O.B. who has survived far more than he should have, due to a combination of natural mettle, military training, and pure luck.
Ex-Marine:
Frank enlisted in the US Marine Corps right out of high school, tearing through boot camp with surprising ease and later excelling as an infantryman, earning the rank of Second Lieutenant. While not always popular among his peers for a rather stark black and white world view, Frank was undeniably an exceptional soldier and passed through numerous specialty outfits throughout the Infantry Division, including but not limited to the Force Reconnaissance and Sniper schools. He also received special cross-training with the Navy Seals after his first tour to hone his skills. For his service in the line of duty, he has received both the Purple Heart and the Navy Cross.
Master Tactician:
As a naturally gifted tactician when it comes to battle scenarios, Frank always tries to be at least three steps ahead of everyone else, usually plotting out every move on the proverbial chessboard from the perspective of both sides – always aiming for the same end goal, of course. And, given that he now sees every second of every single day as a combat situation, his mind is constantly in motion. Additionally, his training and service with the Marines and the Navy has given him experience in a wide variety of combat and recon situations, all of which he is more than capable at adapting to his work as the Punisher.
Firearms Expert:
Cultivated from a combination of his military training and being raised as a Marine brat himself, Frank has a deep respect for guns and what they're capable of, and knows how to handle a great number of models and calibers. He is just as efficient and comfortable with handguns as he is with assault rifles or grenade launchers, among many other types of weaponry.
Hand-to-hand Combat:
Achieving a black belt 3rd degree within the Marine Corps Martial Arts Program by the time he was 28, Frank was a certified instructor for the program. He is well-versed in multiple types of jiu jitsu and karate, among a smattering of others to a lesser extent.
Urban and Extreme Survival:
Survival training was a necessary part of both the USMC and Navy Seal training Frank has gone through, ensuring that he can find ways to sustain himself in practically any environment.
Knack for Killing:
Frank is frighteningly efficient when it comes to the art of killing another person, utilizing anything on hand if he is somehow robbed of any of his regular arsenal. With a weapon in his hands, he is essentially a one-man army and is capable of taking down a great number of targets on his own with precision and great prejudice.
Minimal Medical Training:
Although he only knows enough to treat certain types of combat wounds and how sew up lacerations and keep them clean, Frank does have a small amount of knowledge when it comes to field medicine. He's patched himself up numerous times in the past and also knows how to apply this knowledge to others when he deems it necessary.
PLAYBY:
Jon Bernthal
OOC INFO:
PLAYER NAME:
Kels
AGE:
23
GENDER:
Lady (fine with she/her or they/them pronouns)
TIMEZONE:
PST
OTHER CHARACTERS:
None
[/PTab][PTab=PERSONNEL ASSESSMENT]
PERSONALITY ASSESSMENT:
LIKES:
-
Guns:
Pretty self-explanatory given his background. He's not a fetishist by a long shot, but he is a bit of a collector. He never carries more than he believes is necessary, however, and leaves the rest along with crates upon crates of ammunition in various safe houses he's established across New York.
-
Boxing:
It was on the TV as much as possible when he was a kid, though he doesn't watch or follow it at all anymore. He still likes and respects the sport, though.
-
US Armed Forces:
Frank is proud of the time he served in the Marine Corps and doesn't shy away from this part of his past. Being a fellow Marine or from any of the other branches of the USAF doesn't earn anyone any favors or safety, though.
-
Black coffee:
None of that sugar and cream nonsense. It ruins the flavor.
-
Little Kids:
Frank loved being a father, and even after that was taken away from him he still has strong instincts to protect and care for children up to a certain age. He would never intentionally harm a child, and his demeanor softens ever so slightly around girls or boys who remind him of his own kids. If any harm came to fall on any other children because of him or something he's done, Frank would never forgive himself.
-
Animals:
Surprisingly, Frank has a soft spot for animals of the furry four-legged kind, particularly large breeds of dogs – especially if they're supposedly aggressive breeds.
-
Poetry:
A well-guarded sort of guilty pleasure that Frank keeps close to his chest. He doesn't have many free moments to simply read nowadays, but he's always been intrigued by the genre since his elementary school days. He's particularly fond of William Blake and Robert Frost.
-
Earth, Wind, & Fire:
Their music reminds him of good times with his wife and kids.
DISLIKES:
-
Organized Crime:
To say this is a personal bias is an abysmal understatement. If a person runs with an organized crime family or gang of any sort, they're on Frank's shit list. No questions and absolutely no exceptions.
-
Self-righteous Heroes:
Those that don't or won't "cross the line", that allow killers and rapists and psychopaths the chance to post bail or escape from prison and continue to commit who knows what kinds of atrocities. Frank believes that putting those kinds of monsters down is the only solution, and holds no respect for anyone who pulls their punches to simply incarcerate the bad guys; to him, it's practically admitting that the "hero" is an accessory to the crimes and doesn't mind that they've basically put a dangerous individual (or individuals) right back out on the street.
-
Sympathy:
He's fully aware that his life and situation has been and currently is horrible, and he neither wants to be reminded of it nor pitied for what happened to his family or to him personally. It's a waste of breath and energy to him, and is grossly inappropriate. When others get stuck in pity parties, either for themselves or for others, Frank isn't afraid to call them out on it or to actually smack some sense into them – they just have to hope they won't get stabbed or shot in the process.
-
Mincing Words:
If someone's got something to say, they should just say it. They don't need to stay quiet and they shouldn't take twenty minutes to dance around the subject without actually saying anything. Frank himself is a man of few words and always uses his vocabulary sparingly. For this reason, he is also not always fond of people who use words as weapons, particularly politicians or lawyers.
-
People's Assumptions:
Whether it's about his mental state, why he does what he does, or about his family, Frank doesn't want to hear what other people think or have to say about him. It's one of the easiest ways of goading him into anything other than the battle mode he usually goes into while he's "working" or hunting, but usually with lethal consequences unless the other person is particularly clever. Or lucky.
-
Liars:
Lying to Frank Castle is probably one of the most costly decisions someone could make. If he doesn't catch them in their lie from the beginning, he'll make sure he tracks them down and extracts the truth one way or another.
-
The Overtly Pious:
Frank had been struggling with his faith since his second tour of duty, but the loss of his family was the final straw. He's still conflicted, but becomes immediately aggressive (even more so than usual than he normally is with civilians) with those who shove their faith into other people's faces or make a big show of it.
-
Pedophiles:
As the father of two kids who were both under the age of 12 when they were killed, this needs little explanation. Anyone who shows any sort of inappropriate attraction towards children is getting beaten to death immediately and with great prejudice.
-
Earth, Wind, & Fire:
Even if the music reminds him of happier, more love-filled times, he can't afford to get emotional over the past. He has a job to do.
STRENGTHS:
-
Determined/Tenacious:
Frank has a dogged determination that is admirable in any soldier that was only reinforced by the new purpose in life that he's given himself, and will see everything through until completion. He isn't one to give up or quit, which can make him an invaluable ally or a pants-crappingly terrifying enemy depending on which of his lists a person
doesn't
fall on.
-
Resourceful:
Making the best out of any situation is a crucial skill no matter what the actual circumstance is, especially as a fighter and spec-ops soldier.
-
Reasonable:
While the jury is still out on whether Frank's actions are entirely logical or not, he is very good at justifying things to himself, and always does things for a reason. His actions are methodical and more often well-thought out rather than random or sporadic. And as long as someone isn't on his hit list, he's willing to give them maybe a minute or two to explain why they got in his way.
-
Strong Moral Code:
Frank's code generally falls on the extreme ends of the spectrum, but he believes that a man is only as good as his word, and Frank always holds himself to that to the highest degree. He does his best to avoid collateral damage to civilians and only pursues those who he knows deserve to be punished, although, of course, he is only human.
-
Street-smart:
Growing up in a bad part of Queens that saw its fair share of crime and death has a way of opening a kid's eyes up. Frank has been exposed to the world's underbelly since he was a kid, but his parents, friends, childhood enemies, and later the Marines helped him learn how to handle it. He's very good at vanishing into the masses when he wants to, and at acquiring things that a civilian otherwise wouldn't be able to get their hands on.
-
Semper Fidelis:
He is a Marine through and through and damn proud of it, even though he is trying to distance himself from his former life.
WEAKNESSES:
-
Obsessive:
Once Frank sets out to do something, absolutely nothing and no one can stand in his way. Be it friend, foe, or something in between, Frank will do what he can to tear a hole through them in order to get to his end objective. This can make him obsessive, which – when paired with his violent tendencies – can end in massively destructive results for both him and his target.
-
Emotionally Unstable:
Needless to say, seeing your loved ones get shot to pieces in front of you is incredibly scarring, especially when it's followed up by being shot in the head point blank. While he does not suffer from PTSD due to this incident, he most definitely gets stuck in a loop of heightened emotions anytime he thinks of his family or anytime they're brought up. The fact that his wife and children's deaths were essentially swept under the rug by the media and the legal system did nothing to help him heal, which is part of the reason he started his crusade as the Punisher. Although he supposedly keeps a cool head during all of his operations and acts with both purpose and a massive amount of forethought, he's not holding much together. His mission as the Punisher is his only real way of coping with his loss, and he is extremely volatile and dangerous even when he seems to be emotionally vulnerable. At the end of the day, Frank is a man caught in a vicious loop of mourning and destructive behavior.
-
Violence is the Likeliest Answer:
Frank's first and only response to just about everything. If there's no blood or broken bones, something's not being done right.
-
Rigid Worldview:
Everything can be seen from a black and white or "wrong vs. right" perspective, inasmuch that if Frank believes that what he's doing is in the right, then it truly is the right thing to do. This philosophy was instilled in him as a child, so Frank has always seen things in a very simplistic but dramatic light that affects how he treats the world and other people around him. As such, he doesn't necessarily see what he does as the Punisher as "bad" because he truly thinks he's doing it for the right reasons.
-
High Pain Threshold:
While most would count this as a strength, the fact that it takes a lot for Frank to feel pain is more often a hindrance than helpful. He could be bleeding out from multiple lacerations but keep fighting, or lose use of one of his limbs but continue to track someone down. The smaller the injury, the less likely he is to feel it and appropriately treat it in time.
GOALS:
Frank wants to rid the world of the filth that infects it and sucks all the life and goodness out of it, and will do anything he possibly can to ensure that this happens. Anything other than that is secondary, although he does need to stay alive and out of jail in order to see his mission through.
FEARS:
In one word: failure. More specifically, failure to do what he believes is the right thing.
OVERALL PERSONALITY:
Frank would describe himself as a simple man with simple wants, but that is exceptionally far from the truth. It might have been more accurate back before his family was killed, but nowadays everything about him is much more complex. Who he was and who he is currently is all jumbled up in his head, simultaneously pulling him in opposite directions that leaves him in a constantly agitated and violent state of mind. Paired with his rigid and simplistic worldview, he's a slow burning powder keg armed to the teeth that is fully aware that it's already burning. He doesn't feel like he needs to explain himself to others because if someone doesn't already understand why he does what he does, they never will, and he doesn't have the time or the patience to sit down and justify it to them.
He is adamant in his beliefs and is incredibly hard to sway one way or another. While he is willing to be reasonable and hear certain people out (very rarely, though, because they need a bulletproof reason to get him to listen in the first place), he's hard to argue with because his opinion has as much of a chance to change as the Statue of Liberty does to blink. It takes a lot of first hand evidence and/or accounts for him to even reconsider switching his stance on something, and even then he is not always inclined to trust another person's word. On principle he reserves his trust for people who have actually proven multiple times that they won't stab him in the back somehow, and guards himself viciously by treating life like hostile territory. As such, there's not much that surprises or shocks him anymore, and he usually takes most things in stride or deals with them quickly – unless his family is brought up. That's a good way to get his attention, but is an enormous gamble over whether he'll listen or not.
Starting a family with his wife Maria had a major impact on Frank, loosening him up a bit and making him a little more emotionally open with others. His kids only strengthened that part of him once they were born, stealing him away from his time as a lifer with the Marines. With the simultaneous loss of all three of them, however, that light and happiness was smothered and the soldier stepped in to keep the father and husband from completely crumbling. Every day since is a struggle between these two aspects of who Frank is, the only uniting points between them being his overwhelming grief and thirst for vengeance.
HISTORICAL OVERVIEW:
BIRTHPLACE:
Queens, New York
RESIDENCE:
Sticks around New York out of habit and for obviously personal reasons, but otherwise mobile
PARENTS:
Mario and Louisa Castle/Castiglione, both deceased
SIBLINGS:
Michael, a stillborn brother
IMPORTANT RELATIVES:
None, all deceased or estranged
IMPORTANT PERSON:
Wife: Maria, daughter: Lisa, and son: Frank, Jr.; all were murdered in cold blood in front of Frank. Everything he has done after their deaths has been to avenge them.
OVERALL HISTORY:
Frank Castle – born Francis Castiglione – was the coveted only child of Mario and Louisa Castiglione, a lower middle class, Catholic Italian-American couple trying to make their way through a crime-plagued Queens, New York. Mario was a former Marine and local figurehead within their mostly Italian neighborhood, while Louisa was a proud Marine Corps wife and native New Yorker with a temper and spirit that could send even the toughest of her husband's shipmates packing. He was a hard kid to come by, his parents having tried numerous times before landing a success with him. They would try again, ten years later, but the brother Frank was supposed to have was stillborn. His mother never quite recovered from her grief, despite putting on a brave face in front of both her husband and her young son. Both his parents tried to avoid directly telling Frank what happened, but he had a knack for listening and piecing things together on his own.
Mario and Louisa did their best to raise their only son as well as they could in their small home in Queens, instilling in him a strong sense of responsibility and independence. They trusted him and knew he was a smart kid, so they often let him do what he wanted but were sure to step in when they felt it necessary, especially Mario. Quiet and observant from an early age, Frank wasn't an aggressive kid but still managed to get caught up in his fair share of scraps. For the most part, though, he had reasons that seemed legitimate enough for getting into said fights – such as defending his friends or kids who couldn't defend themselves – but the brutality he displayed the older he got began to worry some of the adults who were familiar with him, especially the parents of the kids he beat. Mr. and Mrs. Castle did little to deter him from fighting, though, since Mario saw it more as an honorable thing since Frank was usually defending others, and the fights seemed to peter off on their own during Frank's junior year – mostly because most of his classmates learned that if someone picked a fight with him, they'd end up with missing teeth and a concussion at the very least.
Frank enlisted in the US Marine Corps straight out of high school, following in his father's footsteps. He fit in with the Marines better than he had anywhere else other than home up to that point in his life, and it was clear that he was fated to be a lifer. He excelled in boot camp, maintaining some of the best scores in his class and impressing his superiors on a regular basis. Frank enrolled in college at the recommendation of his superiors while he was still in boot camp and graduated at the age of 21 with degrees in Criminal Justice and Religion. It was during this time that two things happened to Frank: he lost both of his parents in a short span of time, and he also met and fell madly in love with a girl by the name of Maria, a feisty Religious Studies major attending the same college. Less than year later, Maria became Mrs. Castle just in time for Frank to be sent out on his first tour of duty in Iraq.
After the customary four years of active service, Frank only got to experience a single year of the four year reserve period that followed his deployment when he was called into duty again, forcing him to leave his wife (much to her frustration) for the better part of a year, with very few chances for R&R because of his unit's special ops designation. He had only been gone for a few short months before he got a surprise call from Maria, announcing that she was pregnant with their first child, Lisa. He cried on the phone and didn't live that fact down for years, thanks to both his wife's and his squadmates' teasing. He didn't fare much better a couple years later while on reserve from his second tour when Maria told him they would be expecting their second child, a son. This time, however, he had the privilege of being there for Frank, Jr.'s birth. He had missed Lisa's and has never really forgiven himself for it, despite knowing that there was nothing he could have done about it at the time. The fact that his baby girl turned out to be a complete and total daddy's girl helped make up for it a little.
From there, things seemed to be going as well for the Castle family as could be expected with a father/husband in the Marines, but it was not fated to last. After being released from the active part of his third tour in Iraq and Afghanistan, Frank would spend only a day with his family again before they were brutally taken from him. He and Maria had planned for a family picnic with the kids in Central Park the day after he got home, but unwittingly fell into the crossfire of a gang war that erupted after one of the key figures within the Italian mob was executed in the park for a deal going south. This sparked gunfire all sides of the equation – all three of them – catching Frank and his family unawares and completely out in the open. Frank saw his children and wife be torn apart by bullets in front of his eyes, even as he tried to protect them from the carnage.
Not wanting to risk having witnesses, one of the mobsters took aim at Frank as he tried to gather his already dead family to him and shot him point blank in the head, ripping through his skull. Miraculously, Frank would survive the shot and remained conscious until paramedics and police arrived on the scene. He was still trying to reach for his daughter when he was bundled up onto a gurney and rushed to the nearest hospital. He arrived as a John Doe and was little more than a vegetable hooked up to life support for weeks, mostly unresponsive to the doctors' poking and prodding and continuous tests. Eventually, the prospect of taking him off life support was raised, and a date and time was set. He was unplugged from the machine and flatlined before, somehow, his heart began beating again on its own and he regained consciousness. He would later debate with himself whether God brought him back or if he was simply too stubborn to die, but the fact remained that he was alive.
He escaped from the hospital a day later, after learning that the firefight that had killed his family had essentially been dismissed as simple "gang violence" since there had been, it was thought, no surviving witnesses that could provide testimony to identify the shooters. Considering weeks had gone by and there was no trial lined up at all, Frank became enraged and decided to take the law into his own hands. He laid low just long enough to heal and gather an arsenal together that he planned to use to exact vengeance for his family, and has begun to systematically target and eliminate anyone who was present in the park and holding a gun that day with a precision and ferocity that has led some to believe that his attacks couldn't be the work of a single shooter.
Frank is a changed man, and the only purpose of his life now is to punish those responsible for taking his family away from him, and to rid the world of scum like them.
[/PTab][PTab=IMAGE]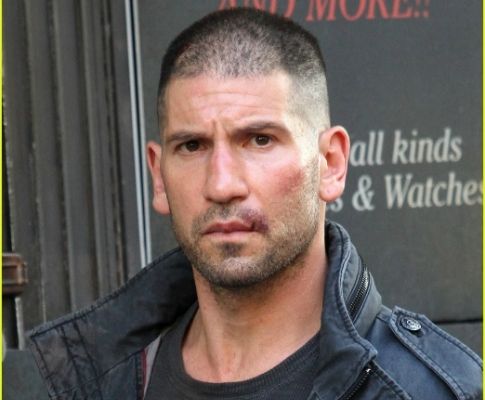 [/PTab][/PTabbedContent={width:485px;border:0px;margin-left:-2px;}]