Post by Deleted on Aug 5, 2015 0:26:53 GMT
[PTabbedContent][PTab=GENERAL INFORMATION]
CHARACTER INFO:
NAME:
Karla Sofen
ALIAS:
Moonstone, Meteorite
AGE:
32
OCCUPATION:
Psychiatrist, wanted criminal
MEMBER GROUP:
Villain
POWERS AND ABILITIES:
The "moonstone" within Karla is actually a extraterrestrial gem that was found on the moon. With it, Karla has a number of powers:
Superhuman Strength – She can lift up to 10 tons
Superhuman Speed and Stamina – Karla can fight for a full day before feeling tired.
Superhuman Durability – She can withstand much more than normal humans, including being struck with great force, falling from heights, and energy blasts.
Superhuman Agility and Reflexes: Karla's balance, coordination, and agility far surpass what a human athlete is capable of.
Flight: Karla is able to fly by using the Earth's gravity to propel her through the air. She can go from still to extremely fast speeds in the blink of an eye-- so quickly she can seem to disappear.
Intangibility – Karla can render herself (and to a limited degree others) intangible. Like a hologram, things will pass through her. She can become transparent as quickly as she thinks it, so this is her primary defense mechanism. She becomes like a ghost and can pass through walls and other solid objects. However, if she were to become solid while doing so it would cause a lot of physical harm (for example, becoming solid halfway through a wall would probably kill her). There does not seem to be a limit on how long she can remain transparent, though she is unable to do so while sleeping. Sometimes this aspect of the moonstone power acts like an instinct-- if she were startled she would become transparent without really thinking about it. She cannot use photokinesis powers while transparent.
Photokinesis: Karla can manipulate light to some degree. She can blast light from every inch of her body and generate concentrated photon blasts from her fists that are powerful enough to blow holes through steel plates.
Minor Molecular Control – She can instantly change/alter her costume.
MD In Psychology - Karla uses her understanding of the human psyche to manipulate others.

Hypnosis – Karla has perfect pitch and modulation of her voice, making her an Expert Hypnotist. She can literally drive people crazy just by talking to them.

PLAYBY:

Ali Larter

OOC INFO:PLAYER NAME:

Christy

AGE:

28

GENDER:

F

TIMEZONE:

EDT. I live in Kentucky, Y'all.

OTHER CHARACTERS:

none.



[/PTab][PTab=PERSONNEL ASSESSMENT]

PERSONALITY ASSESSMENT:

LIKES:
Mind Games – Karla is a fan of psychological terror. It is the only game worth playing. She can hone in on someone's weakness and take her time exploiting it.

Studying Brilliant and Terrible personalities – Karla is fascinated by psychopaths... and these days they're everywhere. She's drawn to them, somewhat. The way the human mind works fascinates her, so when she gets a chance to see a unique one tick she can't help but watch.

Winning – Karla is super competitive with everything. She has to win, she has to come out on top. She's cocky and views most obstacles as a challenge to be overcome.

Sex - Karla is a seductress. She likes tall, handsome, muscular men. Its like a hunt-- she sees what she likes, and it becomes a game to get what she wants. A game she is really good at.

Fashion – Karla knows she has a great body and she likes to dress well. Now that she has the moonstone, she has high fashion at her fingertips whenever she wants it.

DISLIKES:

Being a Psychiatrist – She went into Psychology because she was interested in learning how people think. But in practice, sitting on a sofa listening to someone else go on and on and ON about their petty problems made Karla consider murder. She has no desire to be anyone's counselor.

Mess – Everything has its place. This is less of a tick now that she's on the run, but when she had her own place it was spotless.

Children – Karla has no desire to be a mother and really can't comprehend why any woman would ever want to be one.

Being in Anyone's Debt – Karla is fiercely independent. She does not want to ever feel that she needs someone to take care of her. She'd prefer to think that she doesn't need anyone else, period.

SHIELD/US Government – Karla knows that there are people out there who want her captured so they can have the Moonstone. Because of this, she has an even greater distrust for "The Man."

STRENGTHS:

Moonstone Powers – The mysterious gem inside her has given her a number of powers that make her "Super Human." At this point she is still testing her limits, but she is much more powerful than she looks.

Cunning – Karla is very intelligent and skilled at reading people. She uses her experience as a psychiatrist to her advantage to manipulate people into doing what she wants or to just entertain herself.

Confident – Karla knows she's smart, strong, powerful and beautiful. This makes her somewhat fearless, if not cocky.


WEAKNESSES:

Despite her powers, Karla is vulnerable to ballistic and bladed weapons. Were she to be shot or stabbed, she would be in pain and in danger of dying like any normal woman.

The moonstone is part of Karla. If it were to be removed, she would slip into a coma and die after roughly 72 hours if it were not returned to her body.

The alien power source inside her is still very much a mystery to Karla. She's still learning what it can do and how to use her powers. She does not know where it came from or who might be out there looking for it.

Karla is allergic to peanuts.


GOALS:

Karla's first goal is to find some sort of cover or false identity. She is eager to find some sort of stability and start her life again. She has these powers, but she's not exactly sure what to do with them.

Karla's second goal would be to find out what the hell the Moonstone is and where it comes from.

FEARS:
Currently, Karla's greatest fear is being captured and put in a cell for the rest of her life. The moonstone is HERS now, and she wont give it up or go quietly. She would rather die than be turned into a lab experiment.

More abstractly, she fears being unable to fend for herself. Being at the mercy of another's good graces is unacceptable.

OVERALL PERSONALITY:
Karla is, frankly, an egotistical bitch most of the time. She thinks very highly of herself and has little to no patience for anyone else. That being said, she is human and not a complete sociopath. She does have a need for companionship, though it is very difficult for her to trust anyone. However, if someone was to earn that trust she would be very loyal to them. Once this relationship was established, Karla would probably come to realize that her extremely harsh world view and need for independence is unrealistic and become a bit softer around the edges. It is just at this point in her life she has no one to rely on, so has not had the opportunity to learn this lesson.

Karla has a broken moral compass. She has never been able to really distinguish right from wrong, so in the end she does what she wants, whatever the consequences. With the Moonstone, she could become a hero if she used her powers for good. … or she could continue to take care of herself and quickly become a villain.

HISTORICAL OVERVIEW:
BIRTHPLACE: Van Nuys, California USA

RESIDENCE: New York City

PARENTS: Karl and Marion Sofen, both deceased, both lower-middle class.

SIBLINGS: None

IMPORTANT RELATIVES: NA

IMPORTANT PERSON: None currently

OVERALL HISTORY:

Karla grew up in California. Her father was a butler to a wealthy hollywood producer, so she lived in the "servant wing" of the mansion with her mother and father until her father died. She was six at the time. After that, her mother worked three jobs to support the two of them. Watching her father work for others and then watching her mother throw her life away to support her child (even if that child was Karla herself) never felt right to her. She promised herself that she would always put herself first and serve no one.

Karla had a very successful academic career and graduated with an MD in Psychiatry. She moved to New York and built a successful practice for herself. It didn't take long for Karla to learn that she HATED being a shrink. She hated listening to other's petty problems. It was more out of curiosity than anything else that she began to hypnotize her patients. The results were remarkable. Karla realized that she had a unique gift when it came to hypnosis-- she could influence other's minds so completely she was practically brainwashing them.

Because of this ability, Karla quickly became known for using hypnotism in her psychiatric sessions. The rich and famous of New York took notice and Karla was making a lot of money to 'cure' celebrities of binge eating, stage fright, and anxiety.

Her fame drew the attention of Doctor Faustus. He invited her to visit a maximum security prison where he was working with a number of "gifted" criminals. There, Karla met Lloyd Bloch.

She had a number of 'chats' with him and eventually coaxed him into telling her the secret of his power: the Moonstone. Using hypnosis, Karla convinced Bloch that he was a loathsome monster. In his panic, his body rejected the stone, and Karla picked it up.



The moment she touched it her life changed forever. The stone was absorbed into her body and Karla felt more power than she had ever known. The extraterrestrial gem bonded with her nervous system and the two became one. The energy created by the transfer was so powerful that she also absorbed Bloch's moonstone armor into her body.

High on the energy coursing through her veins and unable to really control the powers inside her, Karla went on a bit of a rampage. A lot of people in the prison died as a result and Karla became a wanted criminal.

She fled, using her powers, her skills as a hypnotist, and her knack for manipulating to go on the run. Her business was shut down and her assets locked, so she had to rely on the "kindness" of strangers to get by. She has been moving from place to place, staying one step ahead of the authorities, and experimenting with her powers. She has a great deal more control now, but she is still learning.



[/PTab][PTab=IMAGE]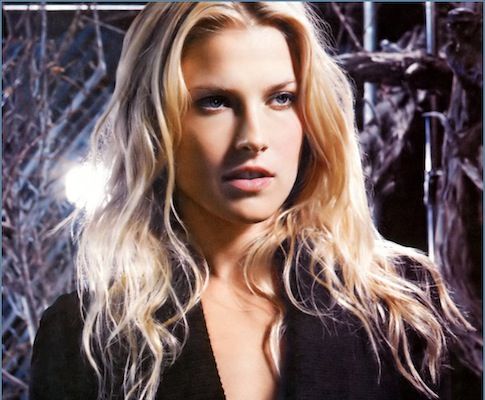 [/PTab][/PTabbedContent={width:485px;border:0px;margin-left:-2px;}]